Flying foodies soar as in-flight food ratings rocket
September 25, 2012 -- Updated 1608 GMT (0008 HKT)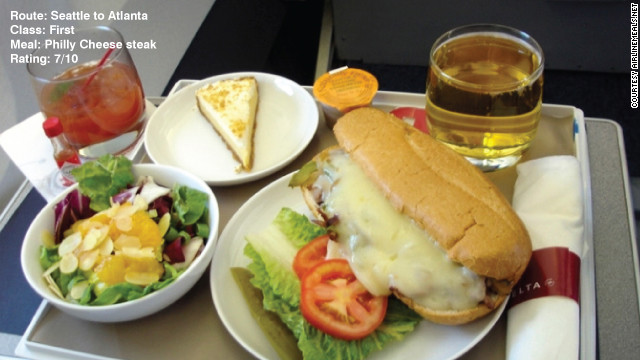 A passenger was served a Philly Cheese Steak who described it as "a little messy, but quite good" and rated it seven out of 10.
George Stoner reviewed his in-flight food between Frankfurt and New York on AirlineMeals.com saying: "Again service was a bit off -- note the lack of table cloth... The food itself was fine, especially the orange couscous."
Perhaps a little odd for the time of day but still appreciated by passenger, Simon Mazzi. He wrote: "Good breakfast as usual on Thai Airways."
Tom Obokata added these shots to AirlineMeals.net and wrote simply: "Pretty decent, although I did not really enjoy the pre-ordered main course (fish curry)."
This snack was just the right size for Michael Sedelles. He wrote: "Nice and refreshing snack for such a short flight."
Delta Air Lines
Lufthansa
Thai Airways
Thai Airways
Air Dolomiti
STORY HIGHLIGHTS
Food-lovers have been posting snaps of their culinary choices in a new social media craze
Now the trend has reached the frequent flyers who are critiquing their in-flight meals
Airlinemeals.net has received 26,000 photos from travelers using over 600 flight operators
Business Traveller is a monthly show about making the most of doing business on the road.
(CNN) -- We've all seen it before -- you're in a restaurant and the person at the table next to you has their camera phone out and is happy-snapping their chosen dish before uploading it to one of the many social media sites out there.
Food lovers the world over are now taking their cuisine-capturing antics to the skies as airlines find more and more of their dishes are ending up online.
Airlinemeals.net is one such site that travelers are posting their pictures to and with over 26,000 photos and counting of more than 600 flight operators, the industry is taking notice.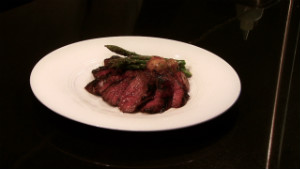 Obsessed with food photography?
Read more: Why travel snacks matter
Ten years ago Marco 't Hart was in a long-distance relationship which saw him flying every six to eight weeks. On one such flight he took a picture of his food at the behest of his inquisitive parents.
Weeks later curiosity lead him to the internet to see if others were doing the same and he found around 20 images. After seeking the image owners permission, he thought it would be fun to put the pictures on a website and airlinemeals.net was born.
"[I was] amazed at first, as it was never set up to be as big as it is now. After that it became clear there was a demand for this site, so I kept developing it, trying to inform people as well as I can," 't Hart told CNN.
Watch Richard Quest photographing his food in New York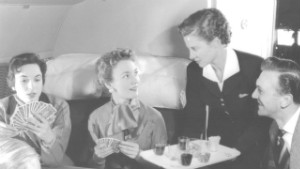 85 years of airline meals
There was once a time where the words "in-flight food" induced involuntary shudders from frequent flyers and nightmarish images of shapeless, gray meat drearily covered in dubious-looking sauce with a rock-hard bread roll and tasteless cake as side dishes. 't Hart says it is because of the unpopularity of certain foods that the site became so successful.
He says: "Ten years ago this was one of the first websites that gave people the opportunity to share and leave feedback at things from every day life. The site gave people a place to complain. Besides that people enjoy looking at some of the odd images."
Read more: Airlines use social media so you don't travel alone
The website's success has even caught the attention of airline catering companies who he says use the site in a different way to frequent flyers.
"Airlines and crew also use the site as a tool to educate their people and to read responses from travelers."
Along with the emergence of flying food critics, the increased popularity in airline review websites like Skytrax and Skyscanner have caused airlines to make a concerted crack at improving in-flight gastronomy.
Especially in the business and first-class cabins where travelers have seen flight operators bringing Michelin-starred chefs to reinvent their food for offer.
You can also follow AirlineMeals on Twitter.

April 11, 2014 -- Updated 0212 GMT (1012 HKT)

Imagine you're a hotel company with a score of brands that seem, well, dated. All the flash amenities of yesteryear seem irrelevant today.
April 8, 2014 -- Updated 0414 GMT (1214 HKT)

The European firm has unveiled how passengers flying on its new A350 XWB might travel.
March 26, 2014 -- Updated 1335 GMT (2135 HKT)

Would you pay to cut in line for the toilets on a flight?
March 5, 2014 -- Updated 0218 GMT (1018 HKT)

Concorde is a thing of the past, but a number of companies are racing to release the first supersonic business jet.
March 3, 2014 -- Updated 0222 GMT (1022 HKT)

Though we're still in the early stages of 2014, it is already proving one of the most expensive years for the travel industry.
March 4, 2014 -- Updated 1715 GMT (0115 HKT)

At $83,200 a night, the Royal Penthouse Suite at Geneva's Hotel President Wilson is the most expensive hotel room in the world.
February 17, 2014 -- Updated 0348 GMT (1148 HKT)

From 'ascending rooms' and mini-bars to pillow menus and iPad-controls, discover the evolution of hotel room amenities.
February 17, 2014 -- Updated 1612 GMT (0012 HKT)

There's a new group of travelers in town -- and it hardly matters which town you're talking about.
February 13, 2014 -- Updated 0457 GMT (1257 HKT)

It's Boeing vs. Airbus as the heavy-weight plane makers face off at the Singapore airshow.
February 10, 2014 -- Updated 0203 GMT (1003 HKT)

How airlines are making in-flight maps more interactive and monetizing them.
February 4, 2014 -- Updated 0103 GMT (0903 HKT)

What do new planes have to endure during cold weather testing?

Today's five most popular stories